Rio Favela Tour
See the day-to-day lifestyles of locals who live in Favela Morro do Pinto, the favela with the Rio de Janeiro most beautiful view.
We are located very close to Samba City. Upon arrival, you'll travel on foot to a craftsmanship store and walk through all the favela, ending up in the local a Football Field. Football is the most popular game of Brasil, hoster of the last Football world cup, and winner of 5 editions.
This will allow you to interact with the locals and give you an up-close look at living conditions, lifestyles and day-to-day life inside a Brazilian favela.
With a local expert guide, you'll travel inside the favela, interact with locals and gain a new understanding of Brazilian society. Also, is possible to play a football game with the locals.
Built around the edge of Brazilian cities, favelas are underdeveloped, overcrowded settlements, many of which over time create their own organizations and become their own small communities. Rio consists of hundres of different favelas and with a third of the city's population living in these towns, the socio-economic differences between the favelas and the city of Rio are very apparent.
However, in recent years, favelas surrounding Rio have become more urbanized with the building of some houses, installation of electricity, running water and practicing proper sanitation practices. On this tour, your guide will take you to the hillside favela of Morro do Pinto, located in the center Zone of Rio de Janeiro.
Your visit will help to suport the Favela kids from the local football team.
What's included in tour:
– Professional local guide
– Playing Football with the locals
– Food and drinks
Visitation of Samba School Practices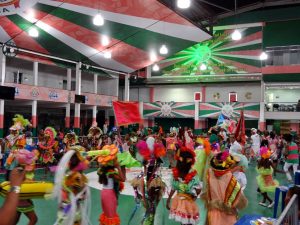 A very interesting way to spend Saturday night in Rio de Janeiro.
Visit a Samba School at night to see the Samba practice. Learn how to samba with the local professional dancers. You can also enjoy some caipirinha drinks and food while having fun.
The Rio samba schools are similar to huge football clubs, in many respect. They have a flag, a color-scheme and devoted (usually life-long) supporters. They clearly resemble modern corporate organizations, with several departments, sub-divisions, strategic partnerships and apply strong marketing technics. They have a fan group of enthusiastic supporters, official headquarters, workshops in Samba City and rehearsing samba halls, where followers meet, prepare for the next Carnival's Samba Parade or just spend the night dancing away.
They are not samba teaching institutions as their name might suggest. The Rio samba schools are at the epicenter of the Carnival culture in Brazil and much of the "samba world" revolves around them.
Their main objective is to prepare for and compete annually in the Samba Parade.
In the final months of preparations before Carnival, they hold samba nights (called rehearsals). These popular dance nights are open to anyone for a small entrance fee and provide entertainment just like night clubs do. The only difference is that you only hear samba music the whole night through, the school's samba song of the year being plaid over and over again to practice the lyrics.
Carnival Costume Sales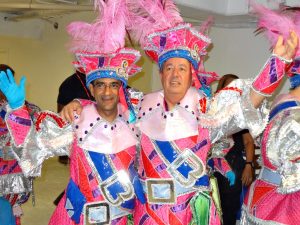 We offer you an opportunity to purchase a samba carnival costume and participate in Rio de Janeiro Carnival Parade.
All the costumes you see in the Samba Parades are handmade by members of the various Samba Schools. Costume design, preparation and manufacturing are all created at the Samba City. Costumes are designed according to the theme chosen by the Samba School and often incorporate the official school colors. Each Samba School exhibits a wide variety of costumes to tell their plot or samba story. Different wings of the parade each have their own set of unique costumes